Official Journal ONLINE ONLY

For non-member
You can read free articles only. ISFA member can read all articles. Please join ISFA and log in ISFA website.
For paid member
You can read all articles at on-line Official Journal after LOG-IN.
Effective with the 2022 volume, Therapeutic Apheresis and Dialysis will be published in an online-only format.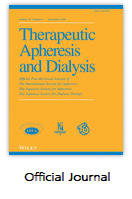 Inpact Factor the latest
2.195